Symposium Speakers
Keynote speakers
Prof Tom Baum, University of Strathclyde, Glasgow, UK
Tom Baum is a Professor of Tourism Employment and formerly Head of the Department of Work, Employment and Organisation (2014-2019) in the University of Strathclyde in Glasgow. He is internationally recognized as a specialist in social dimensions of tourism work and employment, including labour mobility and migration. He has taught and written in the area of human resource management for wellness tourism. Tom studied social sciences as an undergraduate and holds BA (Hons) and MA degrees from the University of Wales, an MPhil in Educational Development from Nottingham Trent University and two doctorates (PhD and DLitt) in tourism/hospitality employment policy studies from the University of Strathclyde. He has worked in about 50 countries as researcher, teacher and consultant and has completed projects funded by key international agencies including COMCEC, the World Bank, ILO, UNICEF, UNWTO, UNDP, EU and ADB. Tom has supervised about 40 PhD students to completion and examined over 100 doctoral theses. He currently holds visiting professorial appoints with universities in Malaysia, New Zealand, South Africa and Wales. Tom will bring his expertise to our symposium to discuss international perspectives about the future of tourism workforce post-COVID-19.
Prof Hideki Endo, Professor of Tourism Studies and Executive Director of the Institute of Humanities, Human and Social Sciences at Ritsumeikan University, Japan
Prof Hideki Endo is Professor of Tourism Studies in the Faculty of Letters and Executive Director of the Institute of Humanities, Human and Social Sciences at Ritsumeikan University (Kyoto, Japan). Hideki Endo is also Editor in Chief of Tourism Studies Review, published by the Japan Society of Tourism Studies, and served on the Editorial Board of Asian Journal of Tourism Research, which was one of the international academic journals of tourism studies. He has a wide range of research interests in Sociology of Tourism, and has published many books and research articles on various aspects of Sociology of Tourism, with topics ranging from authenticity in tourism, tourist gaze and performances, and the relationships between tourism and media culture. His current research interest focuses on Tourism Mobilities, especially the relationships between tourism, mobilities and digital revolution. Prof Endo is now considering the "Mobile and Digital Society" after COVID-19.
Confirmed speakers
Samantha Palmer, General Manager of Austrade's Visitor Economy and Client Programs Division
Samantha, as the general manager at Austrade's Visitor Economy and Client Programs Division, leads the nation's tourism and broader visitor economy policy and programs and oversees Austrade's client-centred grants schemes including the Export Market Development Grant program. Samantha brings 20-plus years of diverse experience in senior executive service roles and has led policy programs and corporate transformations in the Queensland, WA and Commonwealth governments in numerous areas, including fair trading and consumer protection, environmental protection and national parks, Indigenous and rural health, land transport and road safety, therapeutic goods, housing, disability, child support and communities. She has also run a tourism business and worked in the university and community sectors. Furthermore, Samantha is a National Fellow of the Institute of Public Administration Australia (IPAA) and was one of the 2013 Australian Financial Review/Westpac 100 Women of Influence, and the 2013 Australian Human Resource Institute Diversity Champion of the Year (HR).
Loretta De Stefani, Project Manager Industry Support, Destination Development, Tourism Western Australia
Loretta's professional experience extends across a range of portfolios including leisure and business tourism, international trade, and international education sectors. She has recently commenced with Tourism WA as Project Manager Industry Support, responsible for managing Tourism WA workforce development initiatives.  Loretta has extensive experience working in international markets which can be attributed to a range of roles including Export Advisor Europe with Austrade based in Italy, managing Tourism WA UK/Europe operations based in the UK, and Partnership Development Management, Tourism Australia also in Italy. She has extensive affiliation with Japan, as an international student, and representing Japan Travel Bureau as the WA State Manager where she was instrumental in raising the profile of WA and increasing Japanese inbound visitation to WA.
Following her return to Perth from Europe, Loretta joined Perth Convention Bureau (now Business Events Perth) as Director Corporate Meetings and Incentives. She consolidated her skills as a consultant, undertaking various project management contracts in the tourism and hospitality industry, including most recently, managing a program of grant funded initiatives for StudyPerth.
Craig Dobbs, Venue Manager, The Queens, ALH Hotels
Craig Dobbs has been a Venue Manager for ALH Hotels for the past four years in iconic Western Australian pubs, including The Queens on Beaufort Street in Highgate and The Sail & Anchor, Fremantle. ALH Hotels operates over 340 licensed venues across Australia with 28 in WA. Craig is currently the Venue Manager for The Queens and manages a diverse team of 40+ people ranging from university students to qualified chefs and career professionals. Craig began his career 15 years ago washing dishes in a cafe in Mandurah and has since worked his way through an exciting career in both private and corporate settings, affording him the opportunity to travel across the world through his work, including New York and Croatia.
Angela Wong, Director of HR, The Ritz-Carlton, Perth
Angela Wong has been with The Ritz-Carlton for over 15 years, starting her career as a Front Office trainee with The Ritz-Carlton, Singapore. She then worked in Reservations, Catering Sales and Conference Services before having the opportunity to transfer into Training followed by Human Resources with The Ritz-Carlton in the Middle East (Bahrain and Dubai) and China (Sanya).  Angela participated in several hotel openings worldwide with The Ritz-Carlton, and was part of the pre-opening team at Mayfair Hotel in Adelaide before being relocated to Perth to open the 100th Ritz-Carlton in the world – The Ritz-Carlton, Perth as Director of Human Resources.
Anneke Brown, Deputy Chair of Women in Tourism and Hospitality WA
 Anneke Brown has spent her 25-year career travelling the world with hospitality.   Anneke is a founding member and Deputy Chair of Women in Tourism and Hospitality WA, and a Commissioner on the Board of Tourism WA.
Anneke's international experience includes roles at Amanresorts.  As the global Director of Training for Amanresorts, Anneke was part of the project team for 8 resort openings in Cambodia, India, Bhutan, Sri Lanka and the Caribbean.  In Australia, Anneke's management roles include Moondance Lodge in Margaret River, Resort Manager of the iconic Longitude 131 at Uluru, and General Manager of COMO The Treasury, Perth.
Anneke's passion for Western Australia and the tourism industry led to forming her consultancy business Anneke Brown Consulting in 2020, specialising in hospitality and tourism projects.  Bringing an international standard to hotel design and operations, along with excellence in training and education, the business provides solutions to Western Australian organisations with the desire to elevate their offering.
Christine Rumble, Executive Director People and Culture, Silverchain
Joining Silverchain Group in January 2022 as Executive Director People and Culture, Christine Rumble brings a wealth of experience in international leadership, talent development and human resource management.
After being based in Singapore for 10 years with international Hotel company Accor, Christine returned to her home in Perth, Western Australia at the end of 2020 to establish her own business – Dawn Consulting Services which specialised in executive coaching, leadership development and the creation of robust HR strategies to transform leaders and culture.
Christine commenced her career in hotels as an Activities Manager at Observation City Resort in Scarborough, Western Australia, after completing a Bachelor of Applied Science in Recreation. Loving the service industry, she continued in hotel management and worked in all areas of hotel operations throughout Australia and NZ including hotel General Manager.
Christine's passion has always been in developing talent within her teams, so the move to human resources was a natural progression. After gaining experience in a number of Learning & Development and Human Resources roles in Australia she moved to Singapore in 2011 as Director of Accor Académie Asia Pacific and was subsequently promoted to VP Learning and Talent Development Asia Pacific. During this time, she also completed her Masters in Human Resource Management with Murdoch University.
In 2016, she was based in Paris to lead the Accor Global Talent Management Transformation Project as well as drive the talent process for the integration of the Fairmont, Raffles and Swissotel teams after Accor purchased FRHI.
Upon completion of the integration, Christine returned to Singapore to take on the new challenge of Chief Talent and Culture Officer Accor Asia Pacific. In this last position she was responsible for the human resources strategy for 1200 Accor hotels across 23 countries and over 140 000 employees.
Christine has a strong belief in fairness and equality and her efforts in creating programs to drive inclusivity was recognised by the United Nations, who presented her with the UN He for She Influencer Award in 2019.
Recently she was listed in the 2021 ONCON Awards as one of the Global Top 10 HR Professionals.
She is a Fellow Certified HR Practitioner with AHRI as well as a Professional Member of AITD and AICD.
Angela Beechey, Skills and Workforce Development Manager, AHA
Angela commenced at the AHA(WA) as Skills and Workforce Development Manager to tackle workforce and skills shortage issues in the tourism and hospitality industry. The purpose of the newly created role is to identify solutions for the AHA to pursue, advocate and deliver. Since joining the AHA, Angela has successfully partnered with Tourism WA to identify and implement a variety of workforce participation initiatives including developing bespoke training programs and launching a dedicated tourism and hospitality jobs portal, westernaustralia.jobs.
Angela's previous role was Senior Manager at Western Australia's peak body for international education, StudyPerth. Angela led a team which, in collaboration with government, educational institutions and other stakeholders, provided a leadership role in building the profile of international education in WA and overseas. In this role, Angela managed a team of dedicated international marketing and student engagement professionals and contributed to various committees that support the sector and broader Western Australian economy. Prior to joining StudyPerth, Angela worked for a national consultancy managing the successful delivery of major transformation projects in education, government, and tourism around Australia.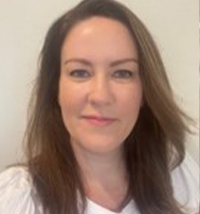 Siobhan Dawson, Director of People and Culture, COMO The Treasury and State Buildings
Siobhan has worked in people and culture in Western Australia for almost 20 years with experience spanning the logistics, automotive, media and hospitality industries.  Siobhan became involved in hospitality as the Human Resources Manager of a 5-star resort in regional WA.  She held this role throughout the COVID-19 pandemic and brings a unique perspective on how the sector's reliance on overseas tourism and labour changed throughout this difficult time – as well as the lessons and opportunities she took away.  In her current role as Director of People and Culture at COMO The Treasury and State Buildings, Siobhan is responsible for engaging and developing talent across multiple unique and luxury venues.  She is driven by the challenge and satisfaction of building an effective, sustainable team and watching people grow within the business.
Catrin Allsop,  Chief Executive Officer of Australia's South West
Catrin Allsop has more than 15 years of experience in the tourism industry. She is the Chief Executive Officer of Australia's South West, one of the State's Regional Tourism Organisations. Catrin leads the ASW team and manages the organisation's operational activities and industry relationships. Catrin steers the organisation's direction, develops strategies and represents the region at trade and industry events, and ensures that industry leaders and stakeholders have the opportunity to collaborate with and are informed on key upcoming ASW activities and projects. Catrin engages with both local, State and Federal tourism bodies to ensure ASW is advised on tourism related issues and developments.
Prof Julia Richardson, Head of the School of Management and Marketing, Curtin University
Professor Julia Richardson is an internationally recognised expert in Careers and Human Resources Management and Head of the School of Management and Marketing at Curtin University. She has pursued a global career in Asia, North America and Europe and has won multiple awards for her research and teaching.  A former Chair of the Academy of Management Career Division, Julia is a regular media commentator and speaker at national and international events. Her book 'An Intelligent Career: Taking Ownership of Your Work and Your Life' (2018) (published in English and Mandarin) is a top resource for business executives. She also sits on the Business Performance Panel for the Ministry of Innovation, Business and Employment, New Zealand.
Dr Kirsten Holmes, Professor of Tourism, Curtin University
Kirsten Holmes is Professor of Tourism at Curtin University and a Fellow and Immediate Past Chair of the Council for Australasian Tourism and Hospitality Education (CAUTHE), which represents institutions that teach and research tourism, hospitality and events in Australia and New Zealand. Kirsten's expertise is in volunteering within tourism, including events and festivals. She is the lead editor of the Routledge Handbook of Volunteering in Tourism, Sport and Events (published 2021) and co-chair's Volunteering Australia's National Volunteering Research Network. Kirsten will bring her expertise on voluntourism to our Symposium to discuss how volunteers can support the industry's workforce and help address some of its key issues.
Dr Adam Crowe, Postdoctoral Research Fellow at AHURI Curtin Research Centre, Curtin University
Adam Crowe is a postdoctoral research fellow at the AHURI – Curtin Research Centre. His research examines innovative ways to improve tenure security within the private rental sector, with a focus on tenant experiences and outcomes, policy innovation, and Build-to-Rent as an emerging asset class touted to increase rental supply. Adam's research builds on his PhD thesis which explored the socio-spatial and psychosocial effects of shifting housing and neighbourhood dynamics for lower income households.
Dr Zitong Sheng, Research Fellow, Future of Work Institute, Curtin University
Dr. Zitong Sheng is a Research Fellow at the Future of Work Institute (FOWI), Curtin University. Her primary research area is work psychology, including topics like employee proactive behaviour, helping behaviour, counterproductive work behaviour, work uncertainty, and safety. She also has a major interest in quantitative research methodology and data techniques.
Symposium Chairs
Dr Ben Thomas, Tourism Research Cluster, Curtin University
Ben completed his PhD at Curtin University in 2014 and is now a member of the Innovation, Entrepreneurship, Strategy and International Business discipline group at Curtin University. His research interests focus on wine tourism and innovative ways to design and deliver wine tourism experiences. He is a native to the Margaret River region and has industry experience across a range of hospitality businesses, understanding the challenges tourism and hospitality operators face.
A/Prof Patrick Dunlop, Future of Work Institute, Curtin University
Patrick completed his Master of Industrial and Organisational Psychology and PhD at the University of Western Australia in 2012 and now works in the Future of Work Institute at Curtin University, where he forms part of the Senior Leadership Team. His areas of research are focused on the opening stages of an employee's journey, namely attracting, assessing, and selecting job candidates and all the processes that are involved in those stages. He is especially interested in the role that new technology plays in shaping these processes, and how to design selection systems that provide positive experiences to job candidates.