Symposium Speakers
Symposium Chairs
Associate Professor Billy Sung
Curtin University
Dr Billy Sung is an Associate Professor at the School of Management and Marketing, Curtin University. He specialises in digital marketing and consumer psychology, consulting for many industry partners including SOHO Global Health (Indonesia), HBF, Lotterywest, RAC, and Red Bull amongst others. His research to date has been based on the study of emotion and the application of psychophysiological methodology in multiple disciplines including psychology, marketing, health, nursing, and robotics. He also leads the Consumer Research Lab at Curtin University, which specialise in the use biometric measures such as eye tracking, facial expression, and brainwave analyses to conduct consumer research.
Dr Sean Lee
Curtin University
Sean Lee is a senior lecturer at the School of Management and Marketing, Curtin Business School. He holds a Bachelor of Arts in Psychology and Asian Studies, a Master of Marketing and a PhD in Marketing. He currently teaches the Marketing Research and Luxury Capstone units, and has won numerous awards for this teaching. His research focuses on the areas of marketing, tourism and hospitality and actively publishes in journals such as the Journal of Vacation Marketing, Tourism Analysis and the Journal of Travel & Tourism Marketing. He has also conducted funded research with a range of industry partners including RAC, Red Bull, and the Department of Primary Industries and Regional Development. Sean is an editorial board member of the International Journal of Advertising and also serves as an ad hoc reviewer for Asia Pacific Journal of Marketing and Logistics, Journal of Vacation Marketing and Journal of Business Research, Journal of Consumer Behaviour, Australasian Marketing Journal, Young Consumers and Journal of Promotion Management. He is also a member of the Luxury Branding Research Cluster and Tourism Research Cluster.
---
Mollie Hill
Executive Director of Marketing
Tourism Western Australia

Mollie Hill is the Executive Director of Marketing at Tourism Western Australia leading tourism campaigns such as 'Wander out Yonder'. Hill oversees Tourism WA's insights and planning, brand and marketing, digital platforms, and content. Her passion is stealing inspiration from beyond the tourism category to gain competitive advantage within it. Hill has lived and worked in Australia, Singapore and Brazil, with 14 year's experience working in strategy for brands such as Nike, Diageo, Google and Blackmores.
---
Professor Iis Tussyadiah
Professor of Intelligent Systems in Service and Head of School
School of Hospitality and Tourism Management, University of Surrey
Iis Tussyadiah is Professor of Intelligent Systems in Service and Head of the School of Hospitality and Tourism Management at University of Surrey. She is also an Adjunct Professor at Curtin's Tourism Research Cluster. Iis conducts research on digital transformation in the travel and hospitality industry, focusing on human-computer interaction, consumer behaviour, and mobility. She investigates the applications and implications of intelligent systems in the services sector to inform business practice and policy.
Iis serves as Associate Editor of Annals of Tourism Research and Editorial Board member of several tourism journals. She is a founding member of the Alliance for Innovators and Researchers in Tourism and Hospitality (AIRTH). Iis served as Vice President (2014-2017) and later President (2018-2020) of the International Federation for Information Technologies and Travel & Tourism (IFITT). She received several Best Research Paper/Journal Paper of the Year Awards at ENTER conferences in 2008, 2012, 2013, 2016, 2019, and 2020, I-CHRIE in 2008, Advances in Destination Management in 2012, etc. Iis was awarded Best Emerging Scholar in Tourism (BEST) by the International Tourism Studies Associations (ITSA) in 2016.
Prior to joining Surrey, Iis was Clinical Associate Professor in the School of Hospitality Business Management, Carson College of Business, Washington State University, USA. From 2008 to 2012, she was Assistant Professor and Associate Director of the National Laboratory for Tourism and eCommerce (NLTeC) at Temple University, USA.
---
Terrence Dewar
Founder and Chairman
Australian Biome
Terrence Dewar is an Australian business executive who brings a wealth of knowledge and global experience from across different industries with over 25 years in media, technology, project design, marketing, and tourism. He is credited to designing consumer retail interactive software on multi-platform and touchscreen devices, language translation and biometric facial recognition.
Terrence depth of knowledge in many disciplines is gained by the integral relationships he has forged with cultural, social communities and commercial industry partners. His interests range from political science, environment, business, technology, and trade economics.
An in-depth knowledge of archaeological and cultural history, he is a forensic researcher who has assisted organisations to source culturally accurate, information for use in film and media.
Terrence is the founder and Chairman of the Australian Biome, an organisation he formed in 2018 dedicated to the action of global sustainability culture and eco conservation, which aims to develop a centre of excellence, technology, and major tourist precinct by providing and building a world class iconic facility at the Perth airport location. The organisation promotes all The United Nations Sustainable development goals. Australian Biome is also supported by Tourism Western Australia.
---
Amanda Peterkin
Marketing Manager
Margaret River Busselton Tourism Association
Amanda Peterkin turned her hand to tourism marketing following over six years working in digital communications at Fortescue Metals Group. As Marketing Manager at Margaret River Busselton Tourism Association, Amanda leads a talented team of digital storytellers and marketers to raise the profile of the Margaret River Region offering visitors an end-to-end travel experience, from dreaming through to loyalty. Amanda is responsible for insights and planning, brand strategy, public relations, content marketing strategy and social community management. She is passionate about building a strong regional community by helping local business thrive. In her time at MRBTA, the Margaret River Region has been named the number one destination to visit in the Asia-Pacific by Lonely Planet (2019) and was a finalist for break-through destination of the year at the Mumbrella Travel Awards (2020).
---
Sonia Beckwith
Founder
Live Ningaloo
Sonia is a mountain mover with a colourful background in non-profit, private, and corporate sectors in America and after an adventure in Australia, decided to stay and start eco-tourism company, Live Ningaloo, with her partner in Exmouth on the Ningaloo Reef.
It's her personal mission to help others move the needle every day in their tourism and business endeavours. She's interested in bringing people to the table who would normally not dine together. She believes in strengthening communication between like minds and opposing views then finding a way to work together to achieve tangible outcomes.
---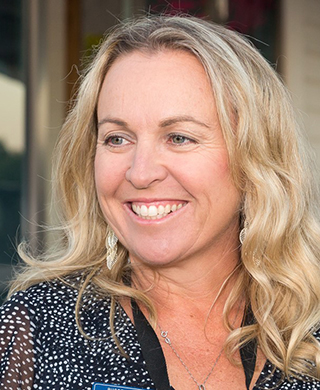 Lisa Shreeve
CEO
Busselton Jetty
Lisa Shreeve has been lucky enough to work all around the world and now call Busselton home.
As the CEO of the Busselton Jetty, and born in Bunbury, Lisa is proud to work with a community of passionate locals who saved the Busselton Jetty after Cyclone Alby and continue to volunteer their time to the town's heritage icon – that is Busselton Jetty Inc, the not for profit organisation that runs the businesses on the Jetty and contributes 25% of its income to its sustainability.
In today's competitive world and especially post COVID, the Busselton Jetty has to keep reinventing itself to continue to attract tourists. Lisa started at the Jetty in January 2015 and has been actively engaging with the local community to find out what their thoughts are on the future of the Jetty, how it can continue to reinvent itself and what new facilities and attractions may be possible to add value to its existing unique selling proposition. She has attracted over $15m in funding for various projects at the Jetty in five years and with the Board of Management, BJI has ambitious plans to grow and develop tourism to attract over 1 million visitors per year.
Lisa has a Bachelor of Business, a Masters in Regional Development, has worked in the non-profit, public sector and private sector for the past 28 years, most recently as General Manager of Veolia Transport WA trading as South West Coach Lines, a internationally owned business with over 200 staff. She lives in Busselton with husband Nathan and daughter Calista, two dogs and two bunnies, with a son Cooper at University in Perth. BJI's mission is to ensure the Jetty is here for future generations and it is Lisa's goal to ensure her grandchildren get to enjoy it and pass this legacy on.
Lisa has been an Olympic torch bearer on two occasions, represented Australia at the United Nations, captained a State Netball team and won many awards in her career including being a Telstra Small Business Finalist and Young Australian of the Year finalist. She is loving her job at the Busselton Jetty, recently awarded WA's Major Tourist Attraction in 2018 and 2019 and last year the Sir David Brand Medal for Tourism, and is enjoying getting out and about to meet people and talk about the huge opportunities for the Jetty and Busselton.
---
Adam Marshall
CEO
Marketforce
Originally from the UK, Adam started his advertising career in 1994 as a Junior TV Buyer at Y&R London. Over the following twelve years, Adam's career in London included senior agency and media owner roles. During this time Adam won Unilever's inaugural Media Person of the Year award in 2004 as well as buying the world's first interactive television commercial.
Since immigrating to Australia in 2006, Adam has held leadership positions at Perth's largest advertising and media agencies. In 2013, Adam moved to Singapore to become Head of Trading Asia Pacific for Mindshare returning to Perth in 2015. Adam became CEO of Marketforce Group in 2018.
Adam has extensive sector experience including both B2B and B2C, tourism, FMCG, State Government, Local Government, automobile, education, not-for-profit, retail and Telcos.
In 2018 he was Campaign Brief's Advertising Person of the Year. He is a Board Director of Breast Cancer Care Western Australia and charity FTT. He is a former Chair of The Oasis Committee and the former Champion of the Perth Advertising & Design Club.
---
Associate Professor Crystal Abidin
Centre for Culture and Technology
Curtin University
Dr Crystal Abidin is a digital anthropologist and ethnographer of vernacular internet cultures. She researches influencer cultures, online visibility, and social media pop cultures especially in the Asia Pacific region, and has published over 60 articles and chapters on various aspects of internet celebrity and vernacular internet cultures. Her books include Internet Celebrity: Understanding Fame Online (2018), Microcelebrity Around the Globe: Approaches to Cultures of Internet Fame (co-editor Brown, 2018), Instagram: Visual Social Media Cultures (co-authors Leaver & Highfield, 2020), Mediated Interfaces: The Body on Social Media (co-editors Warfield & Cambre, 2020), and tumblr: Curation, Creativity and Community (co-authors Tiidenberg & Hendry, forthcoming).

Crystal is an Associate Professor, Principal Research Fellow, & ARC DECRA Fellow in Internet Studies, Programme Lead of Social Media Pop Cultures at the Centre for Culture and Technology (CCAT) at Curtin University. She is also Affiliate Researcher with the Media Management and Transformation Centre at Jönköping University. She was listed on Forbes 30 Under 30 Asia and Pacific Standard 30 Top Thinkers Under 30, and recently received the International Communication Association Popular Communication Early Career Scholar Prize and ABC TOP 5 Humanities Fellowship.
---
Xavier Sala Busquets
Market Manager
Expedia
Xavier Sala is Expedia Group's Market Manager for Perth. Expedia Group is the world's travel platform, with an extensive brand portfolio that includes some of the world's most trusted online travel brands such as Wotif.com, Expedia.com and Hotels.com.
Xavier has over 15 Years' experience in Hotel across the UK, Barcelona and Perth specializing in Revenue Management. In his current role with the Expedia Group, Xavier works alongside Expedia Group Brands and external Partners, including Accommodation Partners, and tourism organizations to optimize market opportunities. With over 10 Years' experience in the Perth Market, and 5 years with Expedia Group in Western Australia, Xavier has a wealth of knowledge and insights on the various markets across the state, and their Supply and demand trends.
---
Craig Wells
Director
WellStrategic Creative
Craig is an expert in the digital arena of premium virtual tours. He has worked all over Australia bringing destination, tourism, and corporate Australia into life in incredible digital formats including virtual reality. Craig's extensive list of clients includes Perth Airport, Crown, Local Government, The Tourism Council of Western Australia (which WellStrategic is also a preferred partner), Recfishwest, Fremantle Prison, Kimberley Cruise Ships, Resorts, Hotels, Glamping sites, and more! As a Google Trusted Pro Photographer & Google My Business Verifier, he's been a part of the incredible rush of businesses embracing virtual tours.