Trailblazing NASA astronaut shares big dreams with Curtin students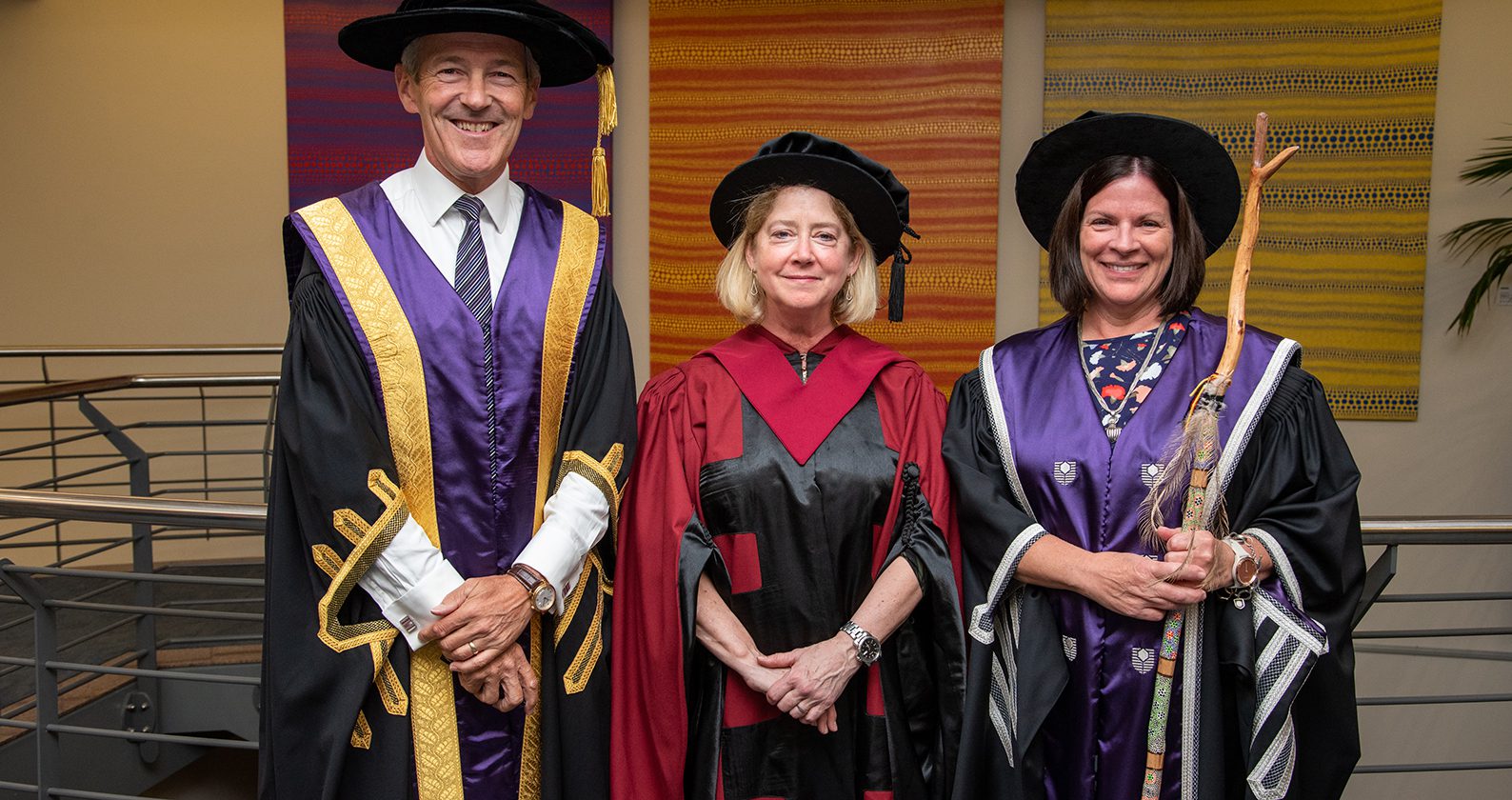 A NASA astronaut who was instrumental in establishing Australia's space agency program has been awarded an Honorary Doctorate by Curtin University.
NASA Deputy Administrator Colonel Pamela Melroy, one of only two women to ever command a NASA Space Shuttle mission, was presented an Honorary Doctorate of Science, in recognition of her services to and leadership in space exploration and innovation across Australia and globally.
An astronaut, jet pilot and senior leader in space exploration, Colonel Melroy drove the establishment of the Australian Remote Operations for Space and Earth (AROSE) consortium, of which Curtin is a foundation partner. AROSE sponsored Curtin's Binar program, which saw students and staff build the Binar-1 CubeSat – Western Australia's first home-grown satellite – that was launched from the Kennedy Space Centre in Florida in 2021.
During her visit to Perth where she was awarded the Honorary Doctorate at a Curtin graduation ceremony, Colonel Melroy also took the time to meet with young Indigenous students from CSIRO's Young Indigenous Women's STEM Academy's Western Australian cohort. Interested in a future career in space, the young women shared culture, knowledge and more information about the program and its impact, while Colonel Melroy answered questions about her STEM journey and spoke about her three missions as an astronaut and building the International Space Station.
Curtin University Vice-Chancellor Professor Harlene Hayne said she was delighted to recognise Colonel Melroy's contribution to Curtin's space program, as well as space exploration across the country and globally.
"Described as having 'off the charts' hand-eye coordination, very strong intelligence, astounding information retention, extensive legal and business knowledge, and an ability to lead a team through great complexity, Colonel Melroy is a truly 'world-class mind'," Professor Hayne said.
"She turned a childhood dream of being an astronaut into an ambitious vision for humanity through space exploration that will take human civilisation to a place beyond our dreams."
Honorary Doctorates are awarded in recognition of an extraordinary contribution to a field of endeavour and academic discipline, as well as outstanding service to professional and public life.
Colonel Melroy was also the keynote speaker at the 2023 Business Luncheon series, hosted by AmCham Australia.
For more information about Curtin's Honorary Doctorates, visit here.
For more information about Curtin's Binar space program, visit here.