Smart way to find water leaks and procurement app are set to Accelerate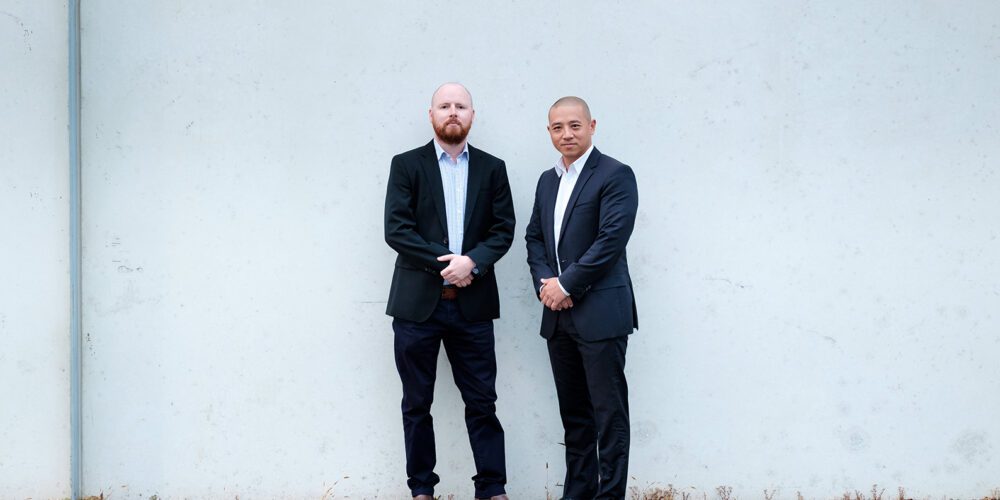 A platform that aims to revolutionise the construction marketplace by more efficiently connecting clients with the right suppliers and a device that instantly detects household water leaks are just two of the innovative projects being supported through Curtin's newly redesigned Accelerate program, which is now underway.
The program is an opportunity for Curtin University alumni, students, and staff to transform their clever product or service into a thriving business, while honing their entrepreneurial skills.
Procuracon founder Cuong Ly and co-founder Andrew McColgan have developed a web app that improves the procurement process for construction, making it easier for developers, land and building owners and government agencies to find suitably qualified suppliers.
"We identified a critical need to improve the construction marketplace and developed technology that offers a unique solution that supercharges the procurement process on construction projects," Mr Ly said.
"Too much time and money is wasted on outdated and fragmented procurement processes, we've experienced it time and time again – and it needs to change.
"Our search algorithms and intuitive procurement UX design is far more engaging and makes it easy for clients to find, evaluate and shortlist suppliers instantly. The platform gives clients access to all the meaningful data needed to make informed business decisions when building teams for their projects and manage risk."
Wata Watcha founder Tamara Berryman said household leaks were common and often went unnoticed for months, causing damage and costing homeowners, renters, insurers and water authorities money, while wasting thousands of litres of water.
"Nearly 60 percent of Australians have, or know someone who has experienced water damage, which is more common and costly than fire or burglary," Ms Berryman said.
"It occurred to me, that if we have security systems and smoke detectors, why don't we have something to detect water leaks?"
Able to be attached to a household water meter, the Wata Watcha device is easy to install, gives access to real-time water usage data and instantly detects household water leaks.
"The Wata Watcha uses long-range Wi-Fi to send water usage data to a networking device called a bridge, which connects with and uploads the data to our website, where it can be accessed by users," Ms Berryman said.
"This allows people to easily monitor their water usage in real time and can help them save on water bills, avoid costly repairs for damage caused by leaks, while helping prevent the wastage of the precious, finite resource that is water.
"We developed and successfully tested a prototype device and have met with Water Corporation WA, which sees the potential for the product and is interested in collaborating with us on it.
"The Accelerate program presents a great opportunity for our team to gain access to commercialisation experts, investors, potential partners and other invaluable support."
Led by Curtin Entrepreneurs Programs Manager Dr Geremy Farr-Wharton, who is an expert in consumer behaviour, information design and ecological sustainability, participants have access to Curtin resources, infrastructure, and services to build their business, and contributes to Curtin's commitment to become a world leader in the translation of research outcomes to exciting new products, services and industry processes.
The 2023 Accelerate cohort has access to a combined total of $100,000 in equity-free funding, in part supported by Lotterywest through Spacecubed's IdeaStarter fund.
Other projects being undertaken by teams participating in the 2023 Accelerate program are:
Care Corner – a digital platform that provides peace of mind for carers and keeps track of data to inform health care decisions.
Heal Domain – provides the missing piece in the puzzle of chronic pain management, by empowering both practitioner and patient to reimagine the patient experience and create better healthcare outcomes.
STEM XR – capitalises on the immersive potential of virtual and related immersive realities technology to create a robust and scalable way of connecting Western Australian and Australian students to relevant STEM experiences.
Matilda – an evidence-based digital platform providing holistic care for those with endometriosis from the comfort of their own home.
Luddi – develops assistive technologies for people living with disability that they can be proud of including the world's first sex toy that caters to all bodies.
Insole Lab – a health-tech startup that harnesses artificial intelligence to make custom shoe insoles more affordable and accessible.
Speed Signature – a disruptive SaaS technology founded by former Wallabies strength and conditioning coach Jason Weber that revolutionises how athletes are managed in sport via the analysis of individual movement biomechanics.
RockAI – delivers highly accurate, intelligent orebody and rock mass characterisation in real time, enhancing mining models to reduce waste and enable greater recovery of critical minerals.
Animate Infinity – develops and delivers immersive training on aggression prevention and management using virtual reality technologies.