Curtin's stars recognised among the State's finest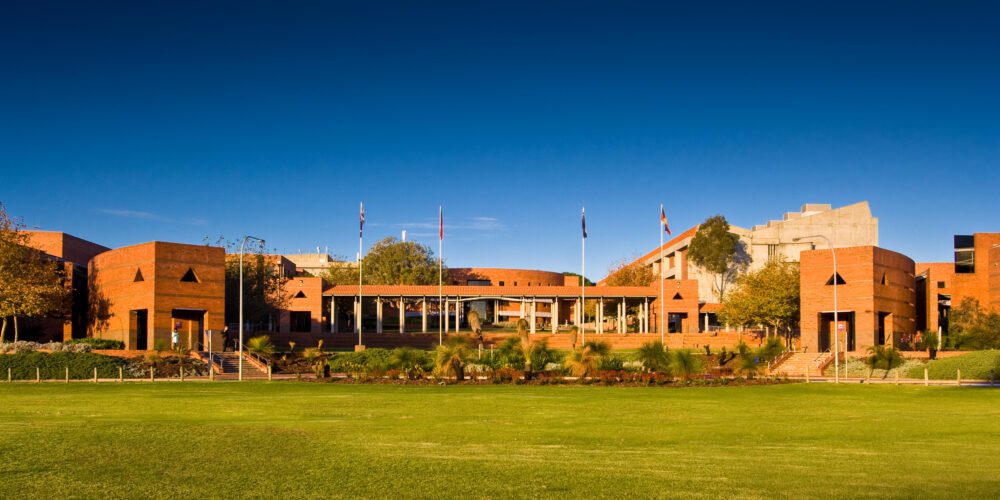 Six leading Curtin researchers and two of the University's powerful science engagement programs have been named finalists in the 2023 Premier's Science Awards, which recognise the State's brightest experts in their fields.
Ground-breaking Alzheimer's researcher John Curtin Distinguished Professor John Mamo, the Director of the Curtin Health Innovation Research Institute, is in the running to be named the coveted Scientist of the Year.
Planetary scientist Associate Professor Katarina Miljkovic, from Curtin's Space Science and Technology Centre, and electrochemistry researcher Professor Debbie Silvester-Dean, from Curtin's School of Molecular and Life Sciences, are finalists in the Mid-Career Scientist of the Year.
Ear science researcher Dr Rebecca Bennett, from the Curtin Medical School, and clinical psychologist Dr David Preece, from the Curtin School of Population Health and Curtin's enAble Institute, have been recognised in the Early Career Scientist of the Year category.
Curtin and Telethon Kids Institute PhD student Denby Evans, whose research focuses on improving the lung health of premature babies, was selected for the Student Scientist of the Year category.
Curtin's BASF Kids' Lab, a program that seeks to inspire the next generation of scientists among primary school children, and the University's Missions Connect project, which uses new tools including virtual reality to share WA's Stolen Generations history, were named finalists in the Science Engagement Initiative of the Year.
Curtin University Deputy Vice-Chancellor Research Professor Lindy Fitzgerald congratulated the Curtin finalists on being acknowledged among WA's leaders in science and engagement.
"Each finalist has played a critical role in raising the profile of STEM in Western Australia with their significant contributions helping to inspire the leaders of tomorrow in their fields," Professor Fitzgerald said.
"The calibre of research and engagement being recognised among Curtin's finalists this year reflect the real-world difference their efforts are making to local, national and international communities."
The Premier's Science Awards recognise and celebrate the outstanding scientific research and engagement taking place in WA across six award categories.
The winners will be announced at a gala ceremony in September.
For more information about the Premier's Science Awards, visit here.
SCIENTIST OF THE YEAR
Professor John Mamo: Professor John Mamo, Director of the Curtin Health Innovation Research Institute, was hailed a "WA unsung hero" by The West Australian. For 35 years, he has diligently pursued new treatment avenues for Australians afflicted with debilitating neurological and metabolic disorders. This includes presently leading three clinical research trials targeting Alzheimer's, migraine and Multiple Sclerosis. Professor Mamo's studies have potential global impact to reduce the significant burden experienced by sufferers. His groundbreaking and transformative research garnered him the prestigious Marshall and Warren Award from the National Health and Medical Research Council. In 2022, he was nominated for the Norwegian Academy of Science and Letters' Kavli Prize in Neurosciences.
MID-CAREER SCIENTIST OF THE YEAR
Dr Katarina Miljkovic: As Australia joins the modern space age, the work of astrophysicist Dr Katarina Miljkovic has helped position Western Australia at the forefront of planetary research and space exploration. An Associate Professor at Curtin University's School of Earth and Planetary Science and the Space Science and Technology Centre, Dr Miljkovic leads the only Australian group that has been collaborating with the NASA InSight mission on Mars since 2018. Their work on meteorite strikes contributed to the first-ever mapping of the crust of Mars. Dr Miljkovic's recent work aids in finding resources such as water on and off Earth; essential for future space missions.
Professor Debbie Silvester-Dean: Professor Silvester-Dean is a multi-award-winning researcher and educator at Curtin University. She is recognised internationally for her world-leading research in the fields of gas sensing and electrochemistry, working on fundamental research that is delivering solutions to real-world problems, through rapid detection of life-threatening situations. Professor Silvester-Dean has further created a vibrant research group and built-up extensive laboratory infrastructure, securing many competitive fellowships and project grants as well as industry partnerships. Professor Silvester-Dean is a strong advocate for women in STEM and has spearheaded initiatives to support students and early career researchers around Australia.
EARLY CAREER SCIENTIST OF THE YEAR
Dr Rebecca Bennett: Dr Bec Bennett is an Adjunct Senior Clinical Research Fellow at Curtin University, Adjunct Senior Researcher at Ear Science Institute Australia and Senior Research Audiologist at the National Acoustic Laboratories. Dr Bennett's research passion is to help adults with hearing loss to reconnect with the world around them. She is achieving this by improving services for adults with hearing loss with a focus on access to services, the use of digital technology and the delivery of holistic services to address the social and emotional wellbeing impacts of hearing loss. Co-design is the cornerstone of Dr Bennett's work, ensuring that consumer and community partners play an equal role in research planning, execution and translation.
Dr David Preece: Dr David Preece is a Clinical Psychologist, Lecturer and Director of the Perth Emotion and Psychopathology Lab at Curtin University. His research on the assessment, understanding and treatment of emotional disorders has generated more than 50 publications and won him several prestigious national awards. Dr Preece has created a large suite of tools to assess emotional problems, some of which have been translated into more than 10 languages and are widely used in clinics and hospitals within Western Australia and around the world. Much of his work now involves using these tools to better understand emotional disorders and inform new treatment approaches.
STUDENT SCIENTIST OF THE YEAR
Denby Evans: Denby Evans is a passionate PhD student researcher at Curtin and Telethon Kids Institute, making unique discoveries that improve the lung health of Western Australia's tiniest members of society – those who are born early. Her research has found that airway cells behave differently after preterm birth, even months or years after the initial hospital stay, paving the way for novel interventions. Denby has published high impact papers and won multiple awards for her research excellence, facilitating presentation of her work worldwide. Denby strongly believes that promoting STEM careers should begin in childhood, regularly visiting primary school classrooms to share her enthusiasm for scientific learning and research.
SCIENCE ENGAGEMENT INITIATIVE OF THE YEAR
BASF Kids' Lab @ Curtin: Curtin University has partnered with BASF since 2014 to offer BASF Kids' Lab in Western Australia. This interactive initiative is designed to spark the curiosity of young students in chemistry, showcasing how chemistry plays a role in enriching our daily lives and the many careers available. Students in Years 4 to 6 attend university laboratories where they discover the world of chemistry through simple, fun-filled experiments supervised by role models studying and working in chemistry. BASF Kids' Lab @ Curtin has successfully engaged more than 8,500 children from more than 123 schools across metro and regional WA, hosted at both Perth and Kalgoorlie campuses.
MissionsConnect: MissionsConnect provides the oldest living culture in the world with the newest technology to address one of Australia's most pressing national priorities, reconciliation, by providing a shared understanding of the history of European encounters with First Nations people. The program, led by Professor Reena Tiwari in partnership with Jim Morrison from Bringing Them Home WA, has garnered widespread success in just six years, including international recognition from UNESCO, raising awareness among participants and audiences of the value of technology. The immersive and interactive virtual reality tool supports truth-telling in indigenous history, attracting multiple awards and industry funding and generating considerable interest in the technology used. Its effectiveness is evident from its uptake by the State Government, Aboriginal and corporate agencies.