Health Research and Data Analytics Hub
The Health Research and Data Analytics Hub was established by Curtin's Senior Executive Team to extend Curtin's ability to utilise large-scale health datasets from a variety of administrative and clinical settings to better understand causes of disease, care practices associated with positive health outcomes and help train a future workforce in data analytics, epidemiology, biostatistics, and health economics.
---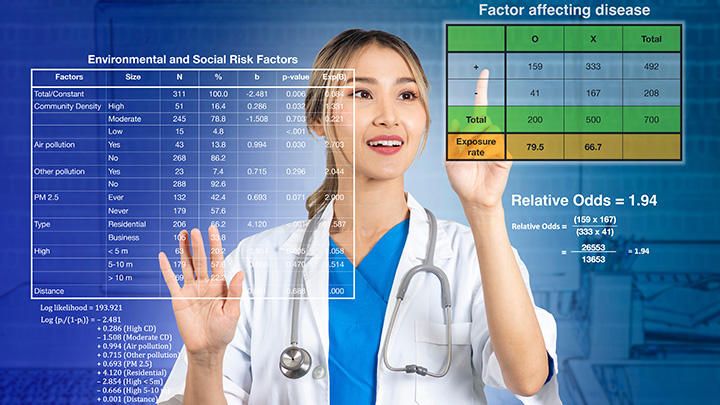 ---
Who we are
Rationale
Vision and mission
The hub complements established research areas in epidemiology and biostatistics, health economics, health systems and health services, population health and data linkage research, clinical trials, and the NHMRC Centre for Clinical Research Excellence in Cardiovascular Outcomes Improvements.
Our groups
Find out more about the groups comprising our hub:
The hub also works closely with the Curtin Institute for Computation WAHTN Clinical Trials & Data Centre, and the WHO Collaborating Centre for Environmental Health Impact Assessment.
The following trends in healthcare and research demand innovation in the collection, storage, integration and analysis of "big data":
The demand for epidemiological studies to investigate the distribution and determinants of health and wellbeing, to inform prevention and intervention, and to provide evidence-based information, particularly during pandemics.
The growing need for the biostatistical and epidemiological methods and the development of risk stratification and risk prediction models in an era of precision health.
An increasing ability to collect large volumes of data within IT systems is driving a rapid increase in the provision of health-related data.
Greater requirements to provide evidence of the effectiveness and long-term safety of medical and surgical interventions.
A growing emphasis on financial incentives to hospitals, primary care and general practice, with funding focused on the prevention of illness.
Evidence of the effectiveness of preventive interventions is dependent on the data from large-scale trials.
An increased emphasis on measuring and benchmarking the quality of healthcare through data from disease and procedure registries.
Increased concern about the long-term hazards of medical and surgical interventions, as evidenced by the rise of long-term surveillance programs (pharmacovigilance).
Vision
Our vision is to improve health outcomes and health service delivery through the effective application and integration of our skills and experience in clinical trials conduct, data capture and management, data linkage and analytics, digital health, health systems and health economics, epidemiology and biostatistics.
Mission
Drawing on current and future infrastructure, analytical capabilities, domain expertise and strategic relationships with primary care, the health industry and government, we aim to:
lead clinical trials and outcomes research capabilities for Western Australia
better understand patient pathways and care practices associated with positive health outcomes
improve research translation and solutions development through access to and use of large data sets
develop capabilities in health ("big") data analytics
promote translation and commercialisation opportunities for Curtin University
train the future workforce in data analytics, epidemiology, biostatistics, and health economics.