Activities
Collaborations
Facilitate collaborations and partnerships
Engagement with SMEs and researchers
Project Supervision
PhD
Post-doc
Honours
Undergrad
Workshops
Design thinking workshops with industry and researchers
Design thinking into teaching activities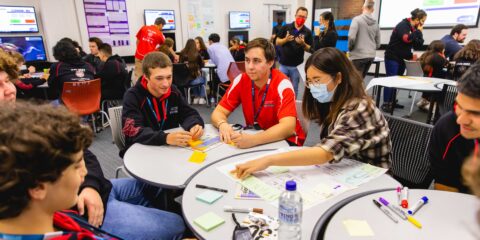 Teaching and Outreach
HCI course
Indigenous Australian Engineering School
News
WADSIH Conference
22-23 June 2022
Four of our OCAI interns attended the Western Australia Data Science Innovation Hub inaugural conference. The conference covered AI, computer vision, employment in the data science area and many applications of the technology. Our OCAI interns had an eye-opening experience and got to network with influential people in the area.
Indigenous Australian Engineering School workshop and tour of Optus 5G lab
11 July 2022
Evan, Jinwoo, Abigail, and James hosted a workshop and visit by the Indigenous Australian Engineering School students to the 5G lab to experience physiological devices.
Science high achievers
12 July 2022
Susannah, Evan and James hosted Science High Achievers at the 5G lab.
ACS Big Day In
22 July 2022
OCAI staff hosted a table at the ACS Big Day In for students interested in a computing career. James, Evan and Jinwoo led tours of the Optus 5G lab for students.
OCAI-EECMS summer internship 2022-2023 students
Four students will be joining OCAI for 8 weeks over summer.