Projects
AI to understand aged care falls prevention
The project involves IoT and wearable sensors to predict human internal states from physiological signals and advanced neural networks / deep learning predictive analytics. In particular, it considers skeletonised video footage for aged care falls prevention.
Deep learning radiology report generation
Developing data-driven techniques to help radiologists manage the data deluge that comes with higher scan resolution and the use of cross modality of information in forming decision around a scan.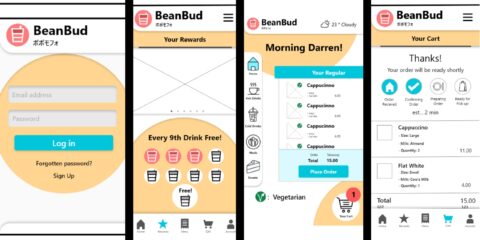 Optus Capstone – AI cafe ordering system
BeanBud is an online cafe ordering system that is available as a mobile phone application and an in-store kiosk. BeanBud uses a collaborative filtering AI model as well as privacy preserving facial recognition technology, which gives customers accurate menu recommendations based on their previous orders and allows customers to log in seamlessly to an in-store ordering kiosk.
Control systems for environmental modelling
This project investigates how optimal control of heating, ventilation, and air-conditioning systems can be conducted using intelligent building energy management systems. Employing the principles of fluid dynamics, thermodynamics and heat transfer in combination with personalised Artificial Intelligence and 5G technology will result in effective and efficient reduction in energy consumption. Domain areas include urban heat islands, museums and aged-care.
AI audio description for visually impaired
The project will generate a context aware prediction model to produce more coherent automatic audio description for consistent and inconsistent audio-visual events for people with visual impairments.
AI and 5G for video conferencing
This project uses Artificial Intelligence and 5G cellular technology to reduce the impact of latency on video conferencing user experience. We show that improved connectivity will affect user engagement, and trust between participants.
AI speech processing to animate 3D faces for realism in telepresence
The concept of telepresence involves the ability for a remotely located person to appear fully present in another's location. Project Telepresence is focused on investigating modern computing technologies such as VR/AR, Computer Graphics, and AI to work towards designing a novel teleconferencing medium that conveniently provides the effect of face-to-face yet remotely distant communications.
Agili8 – Emergency medical response using 5G XRAI vision
This project compares Optus 4G and 5G for Remote Specialist Assistance from a metro hospital connecting with a regional hospital's Emergency Department. For real-time tele-surgery collaboration between metro-regional hospitals, we will stress test 5G capabilities in remote rendering of complex 2D medical images such as X-Rays, CT scans and MRIs into 3D holograms.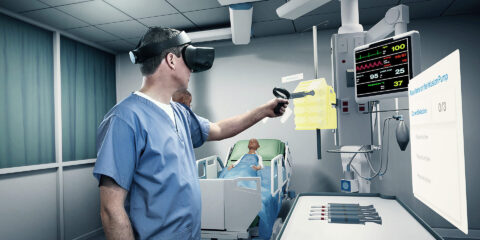 Immersive virtual reality technologies in Health Care
This project video showcases how Immersive Virtual Reality Technologies are revolutionising healthcare. It looks to explore how VR is being used in surgical planning, training, and chronic pain management.
Neural architecture search to detect empathy in videos
Empathy is understanding and reacting to another individual's emotions, perspectives and beliefs. This project aims to detect empathy by utilising facial expressions, audio conversations and physiological signals in a multimodal neural network. Such an empathy detection system will answer questions like "is the call-centre empathic towards customers?", "is the caregiver empathic towards patients?", "is the employer empathic towards employees?" and so on.
Enhancing digital twin delivery in the mining industry
Sentient Computing and OCAI research how to improve digital twin system delivery in the resources sector. The project investigates how 5G connectivity can offer improvements to existing compression, rendering and streaming solutions to enhance usability and productivity in high-demand, distributed workspaces.
Innovation and entrepreneurship
Several Optus Centre of AI projects projects and partnerships have come from innovation and entrepreneurship programs.
We are proud that several of our OCAI projects, students, and collaborators are participating in Curtin Ignition in September 2022:
Party Mood Monitor
Amicia – Stress Monitoring
Teen Mental Health
MobBook
VR Aggression Management
Our partners Hug Health and Research Screener both participated in Curtin Accelerate in 2022.
Responsible and responsive app projects
Party Mood Monitor
A party app to detect when the mood was changing. In a noisy party, the mood can change suddenly. Or does it really change slowly, but we only recognise it suddenly?
Amicia
A stress monitoring app which discovers individual responses to stress in different settings, displays stress levels and offers intervention advice.
Virtual Trainer
Skeletonising bodies so the behaviour or actions can be seen/recognised but the identity of the person is mostly hidden.
Moodle
An app to help train a teen to better detect emotions. Research evidence exists for a decrease in teens' ability to detect emotions from facial expressions or voice tone, as compared to pre-teen or post-teen ages.
Signal Sentry
CCTV, thermal, acoustic and proximity sensors can be used to understand gait patterns as a biometric identifier from the unique sound and vibration of a person's footsteps. Ambient radio data can instead be used to capture data without compromising privacy.
MyFood – Nudge Theory
Use psychological nudging to effect behavioural change for healthy eating.
PrivWalk
App for smartphone to negotiate a smart contract with the Perth CBD 'security infrastructure' via blockchain.
Covid cough
AI analysis of coughing sounds to predict COVID.